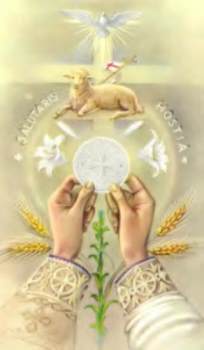 Let us have frequent recourse to this Sacrament, containing all heavenly delights and all that is necessary for salvation. Upon the Holy Altar is spread out a feast beyond compare, which gratifies not the senses but cures the soul of all ill. From the reception of this most blessed Sacrament, saints are made, demons put to flight, glory is given to the Undivided Trinity.
Thomas a Kempis writes beautifully:
''I implore Thy mercy, and beg Thee to give me the special grace, that I may be wholly dissolved in Thee, lose myself in love of Thee, and never seek any other joy. For this most lofty and most excellent Sacrament is the health of body and soul, and the cure of all spiritual weakness. By its power vices are rooted out, the passions curbed, temptations lessened or overcome, grace poured in greater plenty into the soul, virtue already implanted is increased, faith is confirmed, hope strengthened, charity brightened and widened.
'' (Imitatio Christi)
Lord, we are not worthy that you should enter our roof, but purify us of all defilement that we make a house fitting for the King of kings.